Soil Fertility Extension Program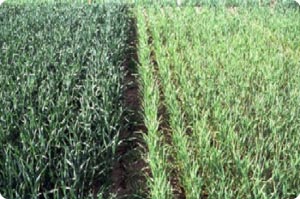 N deficient wheat, Havre, 1996. Image by R. Engel
The Soil Fertility/Nutrient Management program at MSU focuses on the processes that affect nutrient cycling so that they can be managed more sustainably. Soil testing can detect low nutrient levels that lead to possible crop nutrient deficiencies. In addition, soil testing allows for timely adjustments in fertilizer applications, reducing input costs. Understanding the economics of fertilizing, yield goals, and crop quality, along with soil fertility management can assist the producer in meeting profit goals. Currently, the effects of cropping systems and tillage systems on nitrogen and phosphorus availability are being investigated. Research conducted at MSU, the Agricultural Research Centers, and throughout the region, are synthesized into fact sheets, modules, and presentations geared toward extension agents, crop advisers, farmers, ranchers, and/or homeowners. If you have any questions on the Soil Fertility Extension program or materials contained in this web site, contact Dr. Clain Jones.
---
Winter wheat seeding is around the corner. Read about fall considerations regarding winter wheat fertilization needs (pdf)
Upcoming presentations by Clain:
Dec. 7, 2017. Soil testing and fertility management during and after drought. CARC research wrap up in Lewistown.
What have fires done to the nutrients in the soil? A brief article explains (pdf).
The soil sampling strategies MontGuide has been updated (pdf). It describes ways to select soil sampling locations and suggested numbers of samples needed to accurately characterize the soil, which leads to cost-effective fertilizer management.
A new Soil Scoop on nitrate leaching presents crop and fertilizer management options to minimize ground water contamination and fertilizer N loss to leaching (pdf). It summarizes information coming out soon in an revised MontGuide and a new Extension bulletin on the topic.
---
Current Research
Cover Crop Cocktails (project website)
Nitrate Leaching (project website)
Volatilization Loss from N Fertilizers (more information)
---