Partnerships with the Yellowstone Division of Interpretation (YNP DOI)
We are conducting many kinds of activities with the YNP DOI, which provides in-place venues, expertise in the science of education and a built-in audience of 3 million annual visitors interested in new lessons in science, as well as 28 million annual visitors to its websites. These efforts are divided into two main thrusts in association with the funding sources for various endeavors, but all activities are linked to the same themes.

Several projects have been initiated by the TBI in Spring/Summer 2004 and more are to follow:
Electronic Field Trip (EFT)
We developed a new EFT called Hot Colors: Windows to Hidden Worlds based on the microbiology of thermophiles in YNP hot springs. This EFT is a part of the Yellowstone National Park Windows into Wonderland series, prepared according to educational standards for use by teachers in middle school classrooms. The story line involves voyages of miniaturized submarines through the microbial communities of thermal features. Many important scientific themes are included (e.g. scale, what are microorganisms, the tree of life, photosynthesis and chemosynthesis, ecological principles, and astrobiology). Earthtalk Inc. is producing the EFT.
Left: screen shot of the Electronic Field Trip Hot Colors: Windows into Hidden Worlds.
Click on the submarine door on the right to view the EFT.
Camp Wildness Curriculum
The Ward Lab and the YNP DOI designed a new curriculum on the microbiology of YNP. The Ward Lab designed and implemented a four-day module that involved one day of field collections followed by a three-day research experience at MSU for Upward Bound high school students. 9 students made collections at a hot spring microbial mat in a spring with highly fluctuating temperatures, then extracted DNA, performed PCR amplification of the 16s rRNA gene, then ran a DGGE reaction to determine whether such fluctuations might select for different microorganisms than are found in springs with more stable temperatures. A subset of students is preparing a paper and powerpoint presentation for an oral presentation of their research experience. This module is being formalized and generalized for use by other TBI faculty. During July 2004, the McDermott Lab (MSU TBI) also taught 10 students in a similar Camp Wildness module that patterned after ours.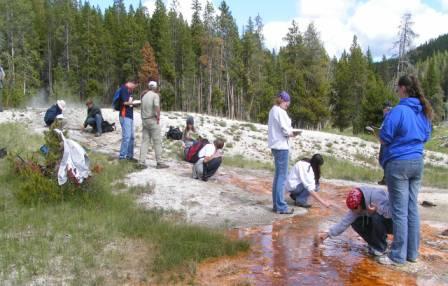 Dave Ward with Camp Wildness students taking temperature measurements at a Yellowstone hot spring, Summer 2004.
2004 Camp Wildness Curriculum & Data
ParKids Curriculum
YNP DOI developed a microbiology curriculum for students in grades 3-12 from gateway communities surrounding YNP. Eight three- to five- day courses are being taught to groups of about ten students per course in the summer of 2004. TBI faculty and students participate in one field day during each course.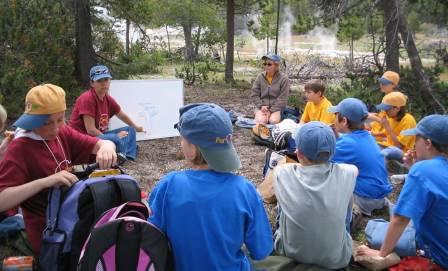 Ph. D. Student Melanie Melendrez teaching Yellowstone ParKids, Summer 2004.

NAI Outreach Team members, left to right: Dr. Baruch Blumburg, Fox-Chase Cancer Research Institute (former director of NAI); Catherine J. Tsairides, Ames Astrobiology; Linda Young, Yellowstone National Park Department of Interpretation; Dr. Jack Farmer, Arizona State University; Dr. David Ward, Montana State University; Dr. David DesMarais, Ames Astrobiology; Dr. Nancy Hinman, University of Montana. (Not pictured: Dr. Tori Hoehler, Ames Astrobiology; Dr. RoccoMancinelli, SETI Institute/NASA; Dr. Lynn Rothschild, Ames Astrobiology)
This guide is used by Yellowstone National Park as a reference to inform park managers and to train seasonal interpretive rangers, who then interface with the public. The 2004 edition contains a new chapter on Thermophiles (Chapter 4) created by the NASA Ames Astrobiology Outreach Team in collaboration with the Yellowstone Division of Interpretation. Funding for the first-ever color version of this manual was provided by The Agouron Institute, the American Society for Microbiology, Lockheed-Martin Corporation, and the Montana State University Thermal Biology Institute.
Wayside Sign Plan
A sign plan, including eight individual signs to be placed on boardwalks in YNP is in review by the YNP Resources Council. Scripting and collection of graphics will soon be underway for the first signs, which we hope will be completed before the end of the 2004 summer season.
Old Faithful Visitor Education Center
As Science Advisory Board member, I am working to include thermophiles in the exhibits. A thermophile exhibit is one of the five main themes to be exhibited in this new venue. Funding for exhibits is being sought by the Yellowstone Park Foundation (YPF).
FIBR Cross-Training Workshop
As a part of our NSF Frontiers in Integrative Biological Research (FIBR) grant, "Do species matter in microbial communities?", the Ward Lab hosts a workshop to cross-train our own participants, members of the Montana State University Thermal Biology Institute, and participants from the scientific community. The purpose of the workshop is to consider ecological, physiological, genomic and evolutionary perspectives that bear on the question our project addresses. Details about the first workshop, held on July 21-24, 2004, can be found on the FIBR project website. Details of future workshops will also be posted there.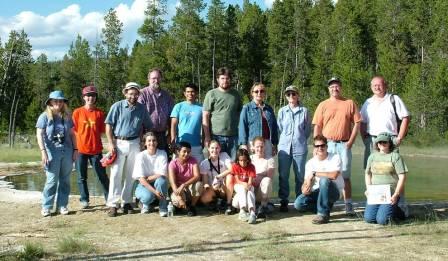 Group photo from July 2004 FIBR cross-training workshop taken at Mushroom Spring. Kneeling, L to R: Natasha Khuri, Devaki Bhaya, Ashlee Earl (guest, Harvard), Ilina (Devaki and Arthur's daughter), Anne Stenou, Jesse Trudeau (MSU undergraduate intern to Museum of the Rockies), Kathleen Duncan (guest, U. Oklahoma). Standing, L to R: Clare Simpson, Sue Rhee, Arthur Grossman, Rick Meinersmann (guest, USDA, Athens), Hinsby Cadillo (guest, Cornell Univ.), Alex Koeppel, Holly Skolones (guest, CSU Sonoma), Jeanne Poindexter (guest, Barnard College), John Peters (MSU TBI) and Anatoli Naumov (MSU TBI).