Soil Fertility Extension Program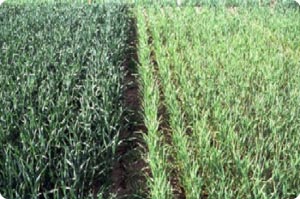 The Soil Fertility/Nutrient Management program at MSU focuses on the processes that affect nutrient cycling so that they can be managed more sustainably. Soil testing can detect low nutrient levels that lead to possible crop nutrient deficiencies. In addition, soil testing allows for timely adjustments in fertilizer applications, reducing input costs. Understanding the economics of fertilizing, yield goals, and crop quality, along with soil fertility management can assist the producer in meeting profit goals. Currently, the effects of cropping systems and tillage systems on nitrogen and phosphorus availability are being investigated. Research conducted at MSU, the Agricultural Research Centers, and throughout the region, are synthesized into fact sheets, modules, and presentations geared toward extension agents, crop advisers, farmers, ranchers, and/or homeowners. If you have any questions on the Soil Fertility Extension program or materials contained in this web site, contact Dr. Clain Jones.
---
Upcoming presentations by Clain: Cover Crops and Soil Health. Part of the NRCS Soil Health Workshops. Nov. 3, Bozeman, Nov. 4, Billings. Sign up for the workshops through Montana NRCS, http://www.nrcs.usda.gov/wps/portal/nrcs/main/mt/soils/health/
MSU Extension's web-based decision tool to help calculate optimal N fertilizer rates for small grains has been revised and is ready for use at http://www.msuextension.org/econtools/nitrogen/.
The calculator is available for winter wheat, spring wheat, and barley produced after fallow. Users enter soil nitrate level, organic matter, yield goal, and anticipated wheat price, N fertilizer price, and protein discount and premium. With that information, the calculator provides estimates for yield and protein response to applied N, and the suggested amount of N to apply for maximum net revenue.
Newly revised MontGuide is available on testing for and managing to prevent forage nitrate toxicity (pdf).
Nutrient Digest Newsletter - offered quarterly. Summer 2015 (pdf) summarizes the discussion at the 2015 Western Nutrient Management Conference on the use of "Haney tests" as an indicator of soil health and nitrogen availability. The issue also contains information on biochar and dairy manure application effects on nitrogen uptake by silage corn. If you would like to be alerted when the next issue comes out, please write kathrin.olson@montana.edu. Earlier issues are available under "Newsletters & Reports".
---
Current Research
Cover Crop Cocktails (project website)
Nitrate Leaching (project website)
Volatilization Loss from N Fertilizers (more information)
---