Soil Fertility Extension Program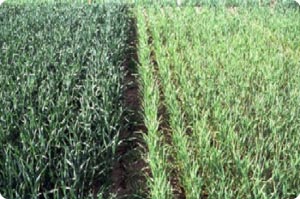 The Soil Fertility/Nutrient Management program at MSU focuses on the processes that affect nutrient cycling so that they can be managed more sustainably. Soil testing can detect low nutrient levels that lead to possible crop nutrient deficiencies. In addition, soil testing allows for timely adjustments in fertilizer applications, reducing input costs. Understanding the economics of fertilizing, yield goals, and crop quality, along with soil fertility management can assist the producer in meeting profit goals. Currently, the effects of cropping systems and tillage systems on nitrogen and phosphorus availability are being investigated. Research conducted at MSU, the Agricultural Research Centers, and throughout the region, are synthesized into fact sheets, modules, and presentations geared toward extension agents, crop advisers, farmers, ranchers, and/or homeowners. If you have any questions on the Soil Fertility Extension program or materials contained in this web site, contact Dr. Clain Jones.
---
Upcoming presentations by Clain: none currently listed.
Newly revised MontGuide is available on testing for and managing to prevent forage nitrate toxicity (pdf).
New Fertilizer Fact sheets: No. 68 is on crop rotations and N fertilizer effect on Wwheat yield, protein and production economics (pdf). No. 69 is on the effect of crop rotation on N fertilizer recovery (pdf). All FFacts can be found at www.landresources.montana.edu//fertilizerfacts/index.html
Soil health - a press release explains what it is all about (pdf).
Soil Testing, now or later? Test as late in the fall as feasible, or better yet, in the spring. A new press release explains why (pdf).
The Soil Scoop - short fact sheets on soil nutrient management topics. We have a new one on Soil Quality and Health (pdf), another on Soil Testing (pdf)
New video on mixed cover crops -We have released a short video about mixed species cover crops potentially replacing summer fallow, presenting our ongoing research. A press release (pdf) describes the highlights.
Nutrient Digest Newsletter - offered quarterly. Spring 2015 (pdf) contains information on the Don Horneck Memorial Scholarship, ammonia emission reduction with manure injection and the Pacific Northwest Extension publication "Fertilizing with Biosolids". If you would like to be alerted when the next issue comes out, please write kathrin.olson@montana.edu. Earlier issues are available under "Newsletters & Reports".
---
Current Research
Cover Crop Cocktails (project website)
Nitrate Leaching (project website)
Volatilization Loss from N Fertilizers (more information)
---