Soil Fertility Extension Program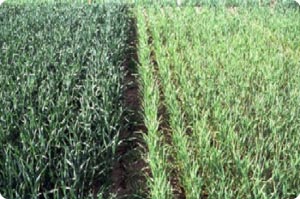 N deficient wheat, Havre, 1996. Image by R. Engel
The Soil Fertility/Nutrient Management program at MSU focuses on the processes that affect soil fertility and nutrient losses so that nutrients can be managed more sustainably. Soil testing can detect low nutrient levels that lead to possible crop nutrient deficiencies. In addition, soil testing allows for timely adjustments in fertilizer applications, reducing input costs. Understanding the economics of fertilizing, yield goals, and crop quality, along with soil fertility management can assist the producer in meeting profit goals. Currently, the effects of cropping systems and tillage systems on nitrogen and phosphorus availability are being investigated. Research conducted at MSU, the Agricultural Research Centers, and throughout the region, are synthesized into fact sheets, modules, and presentations geared toward extension agents, crop advisers, farmers, ranchers, and/or homeowners. If you have any questions on the Soil Fertility Extension program or materials contained in this web site, contact Dr. Clain Jones.
---
How do soil test kits compare to laboratory test results? A new press release explains the differences (pdf).
This cold, late, and in some places wet spring is a good time to consider pop-up P and K to get seedlings off to a strong start, and provide small amounts of N, S and/or Cl at seeding or top-dress to make up for nutrients lost overwinter.
Spring is a good time to soil sample. We have two new soil scoops, Soil Testing: Getting a Good Sample and Soil Testing: Once You Have the Sample on The Soil Scoop website to help anyone involved with soil sampling get the most value from their soil test.
Soil acidification in the semiarid regions of North America's Great Plains. Our article in the March/April 2019 Crops & Soils is open-access to all readers and available for 0.5 CEU in Nutrient Management for CCAs. Contact us for pdf version.

We have a soil acidification website with information about this emerging issue. Clain discusses causes and management options in an interview with Russell Nemetz from Northern Ag Network.
This MSU press release (pdf) presents the issue of soil acidification and the corresponding AgAlert provides information on what to look for in fields.

Upcoming presentations by Clain:

Soil Acidification and Weed Management. As part of a MSU IPM Workshop, June 18-19, 2019. http://ipm.montana.edu/IPM_workshop_2019.html
Highwood Bench Soil Acidity Management Field Day, June 26, 2019. 10:00 - noon, on Shonkin Rd. W, NE of Highwood. For further information, please contact Tyler Lane at the Chouteau County Extension office at 622-3751, tyler.lane@montana.edu
Northern Ag. Research Center Field Day, June 27, 2019. Havre. Clain's topic is nitrogen fixation
---
Current Research
N fixation. Dr Jones is investigating the effects of inoculant, starter fertilizer and variety on pea and lentil N fixation as part of a USDA Pulse Crop Health Initiative grant.
---