Soil Fertility Extension Program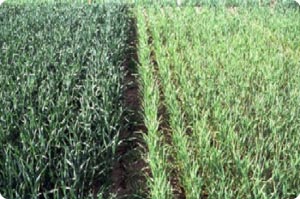 N deficient wheat, Havre, 1996. Image by R. Engel
The Soil Fertility/Nutrient Management program at MSU focuses on the processes that affect soil fertility and nutrient losses so that nutrients can be managed more sustainably. Soil testing can detect low nutrient levels that lead to possible crop nutrient deficiencies. In addition, soil testing allows for timely adjustments in fertilizer applications, reducing input costs. Understanding the economics of fertilizing, yield goals, and crop quality, along with soil fertility management can assist the producer in meeting profit goals. Currently, the effects of cropping systems and tillage systems on nitrogen and phosphorus availability are being investigated. Research conducted at MSU, the Agricultural Research Centers, and throughout the region, are synthesized into fact sheets, modules, and presentations geared toward extension agents, crop advisers, farmers, ranchers, and/or homeowners. If you have any questions on the Soil Fertility Extension program or materials contained in this web site, contact Dr. Clain Jones.
---
Nitrogen Management to Increase Fertilizer Use Efficiency and Reduce Losses. webinar by Clain, available for 1 CEU in Nutrient Management for CCAs.
How do soil test kits compare to laboratory test results? A new press release explains the differences (pdf). Also available as a Soil Scoop
If you are soil sampling, look at our soil scoops, Soil Testing: Getting a Good Sample and Soil Testing: Once You Have the Sample on The Soil Scoop website. These help anyone involved with soil sampling get the most value from their soil test.
Soil acidification in the semiarid regions of North America's Great Plains. Our article in the March/April 2019 Crops & Soils is open-access to all readers and available for 0.5 CEU in Nutrient Management for CCAs. Contact us for pdf version.

We have a soil acidification website with information about this emerging issue. Clain discusses causes and management options in an interview with Russell Nemetz from Northern Ag Network and with Rachel Cramer from Yellowstone Public Radio (go to around minute 10 of the program).

This MSU press release (pdf) presents the issue of soil acidification and the corresponding AgAlert provides information on what to look for in fields.

Upcoming presentations by Clain:

March 27, 202 Lime, Not to Lime for Low pH Soils. Why & How. Washington State University Farmers Network webinar. 1-1:30 pm. Register at WSU Free Farmers Webinar Series, which provides many free webinars. Available as recording.
March 30, 2020. postponed. Soil Health Innovations Conference. How agriculture management practices affect soil health. Brought to you by the National Center for Appropriate Technology
April 8, 2020. postponed. Soil Acidification: Causes and Solutions. North Valley Public Library, Stevensville.
April 18, 2020. postponed. Cashman's Nursery Garden Seminar, Bozeman.
---
Current Research
N fixation. Dr Jones is investigating the effects of inoculant, starter fertilizer and variety on pea and lentil N fixation as part of a USDA Pulse Crop Health Initiative grant.
---