New!
Seventh Annual LRES Research Colloquium
April 25, 2017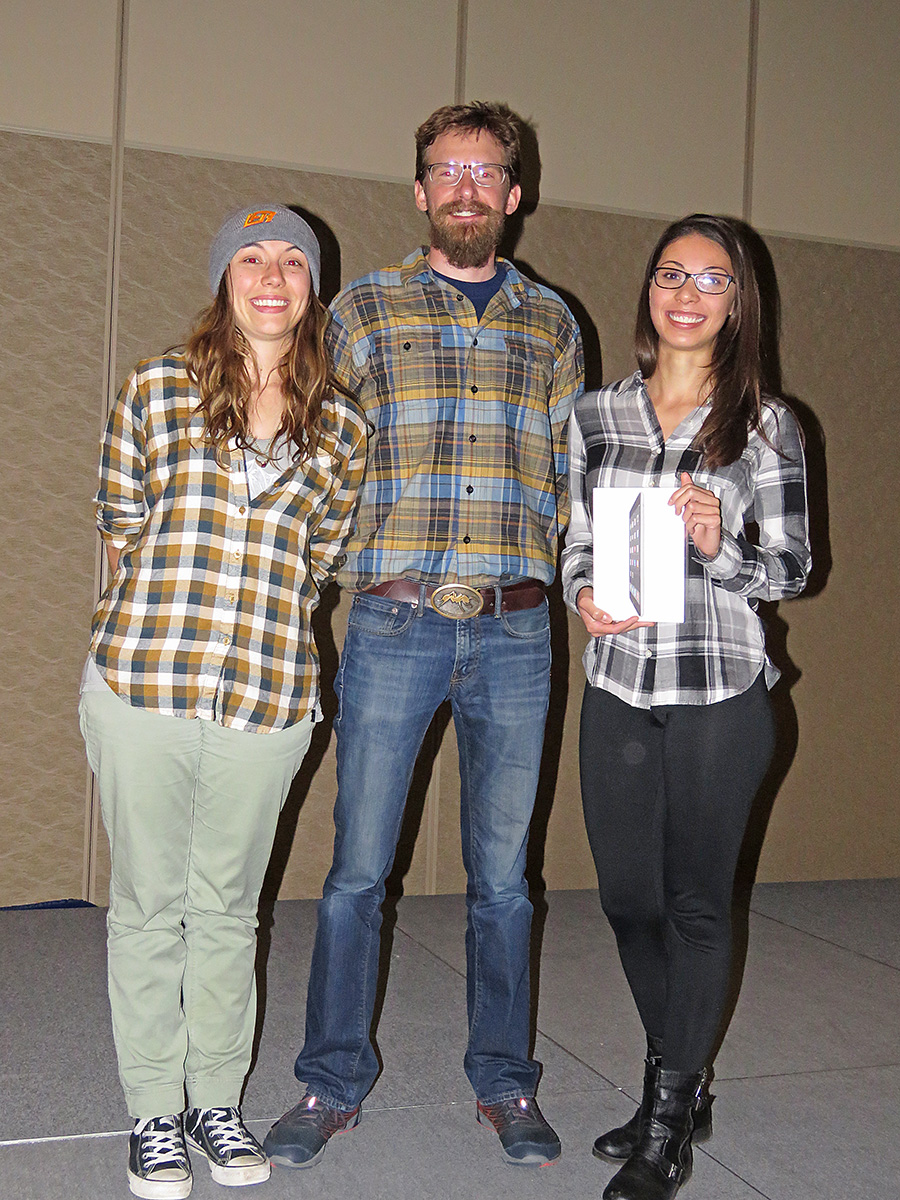 Left to right: Ali Thornton (3rd place), Adam Sigler (2nd place), Dayane Reis (1st place).
On April 25th, 2017, the LRES Graduate Student Organization (GSO) hosted the 7th annual LRES Research Colloquium which was, yet again, a huge success and a great end of the semester event showcasing the diverse graduate and undergraduate research within the department.
The colloquium offered 21 students the opportunity to present their research to faculty, staff, and students from across campus. Participation and turnout for the event was great and provided a welcoming environment for discussion while enjoying good food and drinks. A poster session kicked off the colloquium followed by oral presentations and wrapped up with a very interesting keynote talk by Scott Patterson from the Montana Department of Environmental Quality. Mr. Patterson's talk titled "A public health perspective of nitrates in Montana's drinking water," provided explanation of several case studies which described the underlying mechanisms driving nitrate pollution in drinking systems throughout the state.
Excellent door prizes were again donated by local businesses, leading to many event goers leaving with more than they came with, besides a full stomach and head full of thought. Both oral and poster sessions were judged for the opportunity to win great prizes. Poster judges were Drs. Jia Hu and Yuriko Yano from the Ecology Department, Dr. Qian Wang and Ms. Amy Chiuchiolo from the LRES Department. Oral presentations were judged by Drs. Ryan Thum and Laurie Kerzicnik from Plant Sciences & Plant Pathology and Dr. Lindsey Albertson from Ecology. A huge thank you to all the judges for volunteering their valuable time and energy to make the LRES Colloquium a successful event.
Presentations were very competitive and the judges were left with a difficult decision in assigning winners for each category. The first, second, and third place awards for oral presentations went to Subodh Adhikari, Audrey Harvey, and Uriel Menalled, respectively. The top two poster awards were awarded to Kelsey Wallisch-Simon and Madison Nixon. Winners had their pick of several prizes including two portable, waterproof, Bluetooth speakers, a two-person tent, an inflatable kayak, and a Crazy Creek camp chair. Congratulations to this year's winners and thank you to all oral and poster presenters putting in the time and energy to make the colloquium a great success! Everyone did a great job!
Thank you to the LRES Department and the MSU Office of Student Engagement for providing generous funding for this great event. Many thanks to the GSO for putting in their time and effort to make the 7th Annual LRES Research Colloquium a huge success and to Dr. Jane Mangold for advising us and keeping us in line!
Check out the photo gallery below!